Press Peeks into J.K. Rowling's Back Yard, Sees Hagrid, Gets It Wrong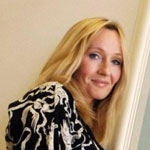 Apr 19, 2011
There's a pretty hilarious article going around from the Daily Mail that posits that J.K. Rowling is building Hagrid's Hut in the yard of her Edinburgh home. It claims the author is constructing a "lodge" that will sit at the bottom of her gardens that will mirror the hut we've seen in the films, with a conical roof, a spire, a chimney and stone steps up to the door.
While it is true she has submitted plans for the building of a garden house in her yard, which will match the style of her home and happens to have a conical roof, there isn't any intent to make it match Hagrid's hut (which is actually wooden as per the books, not stone as in the films).
Stay tuned to Leaky for more info on Jo's architectural adventures, including her plans to build a full scale Hogwarts on the grounds of Buckingham Palace; the functioning Hog's Head pub being readied for her private use on the Royal Mile, and, of course, her very own Room of Requirement, which will appear now and then inside her Edinburgh home and serve coffee, biscuits and writing inspiration on demand. We'll bring you the scoop!
(Just in case it needs saying, which we know from experience it does: The above paragraph is a joke and should not be mistaken for anything resembling truth.)