"Deathly Hallows: Part 1″ Tops Last Week's DVD Sales Charts, Strong Blu Ray Sales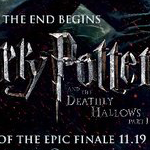 Apr 21, 2011
Reuters is reporting extremely strong sales for the "Harry Potter and the Deathly Hallows: Part 1″ DVD, which was released last week and debuted at the top of Nielsen Videoscan's chart for the week ending 17th April after only three days of sales. The chart also shows the other six films in the series in the top 20, the result, Reuters says "of an aggressive ad campaign" including primetime television adverts.
The report also gives information about the format of the DVDs themselves, with 70% or so of Harry Potter catalogue sales in the Blu Ray format, with 46% of "Deathly Hallows: Part 1″ DVDs sold being Blu Ray.
"Harry Potter and the Deathly Hallows: Part 1″ is now available on DVD and Blu Ray.
In related news, MTV's Movies Blog has a fun article online about five Potter film moments they'd like to see turned into 3D in the event of a 3D re-release or 3D DVD release of the earlier Potter films:
The Chamber Of Secrets
The basilisk in "The Chamber of Secrets" was terrifying enough as it
was, but imagine it lashing out at Harry in 3-D? Plus, the projection of
Tom Riddle would look that much creepier if it was popping out of our
screens at us. Added bonus:

Kenneth Branagh

in 3-D. Enough said.
Read the full article at this link on the MoviesBlog website.