"Deathly Hallows: Part 2" Trailer Airs on ABC Family; US and French Dubbed Version Now Online (Updated)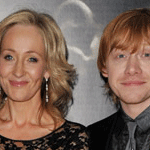 Apr 27, 2011
Update: Apple.com has made available the trailer for "Harry Potter and the Deathly Hallows: Part 2" which can be viewed in 480p, 720p, and 1080p.
As expected, ABC Family has aired the full US version of the trailer during the last half hour of the "Happy Gilmore" broadcast. Clocking in at approximately two minutes in legnth, the trailer features a voice over of Lord Voldemort's speech during the Battle of Hogwarts and glimpses of the battle, Gringots break in, the castle crashing down around Harry, Snape's memories, Molly and Bellatrix's duel, Snape at Godric's Hollow, Oliver Wood sweeping into Hogwarts, the Weasley's surrounding Fred's body, and Harry and Voldemort tumbling off a cliff at Hogwarts.
Additionally, Cine.orange has posted a French dubbed version of what is expected to be the first full trailer for "Harry Potter and the Deathly Hallows: Part 2" set to air this evening on ABC Family. To watch this trailer, click here.
Stay close to Leaky as we'll post the trailer as soon as it appears online.
Update 2: Thanks to WB we now have a full range of viewing and download options for the just released "Deathly Hallows: Part 2" trailer.
WINDOWS HD1080p720p480p
WINDOWS STANDARDLargeMediumSmall
FLASHMediumLarge480
QUICKTIME HD1080p720p480p
QUICKTIME STANDARDSmallLetterboxLargeMedium560 Widescreen
IPOD
Many thanks to Countdown2DH!