New Image of Harry Online from "Deathly Hallows: Part 2″ FIlm Released (Updated with More Images)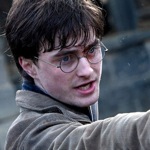 Apr 27, 2011
ABCFamily.com has posted this new photo from the "Harry Potter and the Deathly Hallows: Part 2″ film in lead up to their premiere of the first trailer for the forthcoming film tonight. The full image can be viewed via this link or here in our galleries.
Update: Two more images from the film have been uploaded to the official Harry Potter Facebook page. You can find those images right here and here in our galleries.
Stay close to Leaky; we will post the trailer as soon as it appears online!