Support Lumos and Light a Birthday Candle for on International Children's Day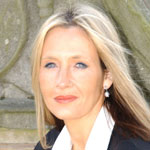 May 20, 2011
Lumos, the charity started by Harry Potter author J. K. Rowling supporting disadvantaged and institutionalised care in Eastern and Central Europe, has launched a campaign for International Children's Day on June 1st to Light a Birthday Candle for Lumos. According to the press release, "the campaign will help to raise vital funds and awareness for the one million children in institutionalised care in Eastern and Central Europe, many of whom are unable to celebrate their own birthdays." To purchase a virtual candle for this campaign, visit the official site here.
The release continues:

Lumos is encouraging everyone, including families, teachers and community groups, and employees in the workplace, to host their own cake and candle-themed fundraising events, from Tea & Cake parties for friends, family and children to Bake & Take events at work.
Celebrity chefs who have donated inspirational tea party recipes to the 2011 campaign include BBC2 Something for the Weekend's Simon Rimmer, renowned Kiwi restaurateur, Peter Gordon, actress and cake shop proprietor, Jane Asher and top TV chef Gary Rhodes.
A number of celebrities and TV chefs are joining Ms Rowling and the Lumos campaign, including BBC2's Simon Rimmer, Peter Gordon, Jane Asher and Gary Rhodes.
To find out more about the Light a Birthday Candle for Lumos please check out the official site, follow them on Twitter (@Lumos) or here on Facebook.