Emma Watson Poses For 21st Birthday Portraits by Mark Demsteader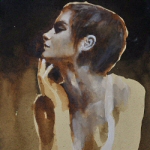 May 26, 2011
In celebration of Emma Watson's 21st birthday last month, renowned artist Mark Demsteader created a collection of portraits featuring the actress.
The Hermione Granger actress originally planned on purchasing one of Mr. Demsteader's pieces when the tables were turned and she became the subject of his latest collection.
The 34 portraits featuring Ms. Watson will be exhibited at the Panter & Hall Gallery on Bury Street in London beginning June 15, 2011. The stunning portraits use different mediums, including charcoal and gouache drawings, ink paintings and oils.
Per Ms. Watson's request, 10% of all sale proceeds from the portraits will be donated to CAMFED International, a charity which supports the education of girls and economic empowerment of young women in Africa.
A preview of some of the portraits can be seen at EmmaWatson.com.