Helena Bonham Carter Discusses Fight Scene Between Bellatrix and Mrs. Weasley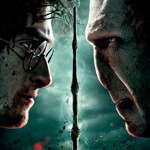 May 28, 2011
Helena Bonham Carter (Bellatrix Lestrange) has recently spoken about what it was like filming the fight scene between her character and Mrs. Weasley, played by Julie Walters:
"You should warm up before sword fighting,
that's what Julie and I found out when we were duelling with each other.
We were crippled after that scene!
"Duelling going backward on a table is tricky, without falling off. Which, of course, I did!"
The article goes on to say that the cast and crew found the fight amusing, since Bonham Carter and Walters are friendly off screen. You can read more of the article here.