Preview of Leaky's "Deathly Hallows: Part 2" Set Report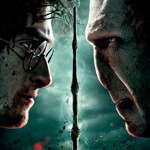 May 04, 2011
In March of 2010, Leaky was invited along with a number of other fan sites to Leavesden Studios just outside London, England to spend a day on the set of the final two "Harry Potter and the Deathly Hallows" films. During out time on set, we were able to get a first look at what the cast and filmmakers had in store for Part One of the film (full report available here) and for Part Two, which will be profiled in our full set report soon. Today, however, we have a sneak peek at Leaky's full set report which shows just a sample of what to expect from Part Two. Enjoy!
After and entire film outside the outside the walls of Hogwarts, Harry, Hermione, and Ron are back inside the castle on a mission to defeat Lord Voldemort. It's not the school we remember, however; battle-scared and rubble-strewn, Hogwarts gets as bruised as any member of the Order as it fends off the advancing Death Eater army. Evidence of this fight can be seen everywhere across the set. Walking through the courtyards while watching filming we could see just how the production designers were dressing the set for battle. Actors and extras rushing frantically around, evidence of fighting already in their costumes. The battle's on.
Leaky's set report will feature many interviews with the cast and crew, including a discussion with Production Designer Stuart Craig on creating the right atmosphere for certain scenes and how he oversaw the transformation of Hogwarts throughout the years. Additionally, we speak from cast members such as Matt Lewis about his character's role in the Final Battle, as well as how Dan Radcliffe achieves Harry's emotional state during the final act of the film.
Stick close to Leaky for our full "Deathly Hallows: Part 2" set report, which will feature full interviews with the cast and crew, a rundown of what we saw filmed, what we uncovered behind the scenes, and much more. With less than 70 days until the release of the final film, Leaky is your one-stop-shop for everything "Deathly Hallows" related. Expect much more soon!
"Harry Potter and the Deathly Hallows: Part 2" will be released in theaters in the US and UK on July 15, 2011.