Announcing Part Two of the 2011 Two Part Riddles Contest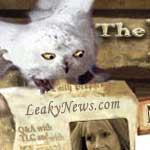 Jun 01, 2011
As it's now June, the first riddle has been posted in the 2011 Two Part Riddles Contest we let you know about at the beginning of May. Every Monday and Friday at approximately 9am EDT through the month of
June, the Contest Team will post a riddle on the Contest Corner the
Facebook page to be answered via e-mail. All answers must be e-mailed with "2011 Riddle # Answer" in the subject
line to [email protected] before the next riddle is posted. Please also submit a name (real name or Leaky
Lounge name) to be used for tracking and site announcement (if you
should win) purposes. Please replace the # with the riddle number (e.g.
Riddle 1 Answer, Riddle 2 Answer, etc).
If you would like some sort of "reminder" when new riddles are posted,
please "like" the Leaky Cauldron Contests Facebook page as each riddle will be posted there (in
addition to the traditional method on the Contest Corner) and will
show-up on your daily feed. To be eligible for the drawing of a Wizard Wood Wands, you must have all
10 riddles answered correctly. If no one submits
and/or answers 10 riddles correctly, the next highest amount correct
will be used for the drawing of the three Wizard Wood Wands.
Find the full rules of the Two Part Riddles Contest here on the contest page and follow this link to see the first riddle!