Voldemort and Death Eaters Feature in New "Deathly Hallows: Part 2″ Poster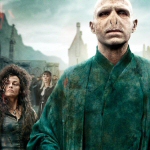 Jun 14, 2011
The official HarryPotterFilm Twitter account has released yet another poster for "Harry Potter and the Deathly Hallows: Part 2″ this time featuring the dark side: Voldemort and several of his most loyal followers during the battle of Hogwarts.
Click here to see a high res version of the poster!
"Deathly Hallows: Part 2″ will arrive in theaters on July 15, 2011.