Architectural Digest Releases New Photos of "Deathly Hallows" Sets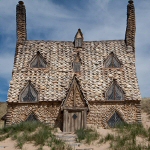 Jun 22, 2011
Architectural Digest magazine has published a slideshow featuring images of the sets and concept art used for "Deathly Hallows: Part 2."
Production designer Stuart Craig gives some background on each set, which includes Shell Cottage, the newly introduced boathouse at Hogwarts, and Bellatrix Lestrange's underground vault at Gringotts.


"I try to find a logic for whatever the set is and somehow I felt it was wrong for [Shell Cottage] to be too whimsical, too fanciful' says production designer Stuart Craig. "So this cottage has a logic. If you really wanted to build a house on the beach, what would you do? Well, you would use local materials. And the local materials would be either rocks or seashells. The walls are huge oyster shells and the roof is made of big scallop shells. You can see how scallop shells can lend themselves to overlapping and shedding water. I was kind of pleased with t[he logic underlying the structure that we had found there."
"Deathly Hallows: Part 2″ arrives in theaters on July 15, 2011!