Matt Lewis Talks Neville Longbottom: "Seeing Neville Become a Fighter Was Great"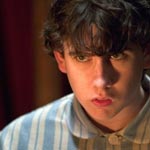 Jun 22, 2011
In a new interview with Parade Matthew Lewis (Neville Longbottom) about a variety of topics, but mostly his feelings on playing Neville Longbottom for the past ten years. Lewis recalls his audition for the character:
"It was at the Queens Hotel in Leeds, which is where I live. I was a
huge fan of the books, so I asked my mom if we could go down to the
audition. We were in line for about four or five hours and we were given
a raffle number. I remember I was number 463. We just had to wait and
wait and eventually we got in and I had to read a paragraph from the
book, which was the paragraph where Harry is talking about the dragon
egg from the first film. So I read that and left and that was it. It was
two months before we heard anything. We pretty much said, 'Well, maybe
next year we'll try out for film two,' but we got a call asking if I
wanted to come meet Chris Columbus, the director, and it just moved
really quickly after that. I can't really explain how I felt. It was
just amazing."
Lewis also discusses how Neville Longbottom has changed over the course of the films:
"In the earlier films, I had a fat suit on, which was not very
enjoyable. I also had bits of plastic behind my ears so they would stick
out, and there were false teeth as well. But as Neville got a bit
older, we started slowly making him a bit cooler, not totally cool, but a
bit cooler. In the last film, Neville's got no fat suit, no false
teeth, no plastic behind his ears, but I was still in hair and makeup
for a long time because there's lots of blood and cuts and bruises. I
think the first time we put all the blood and stuff on, I was in hair
and makeup for about two hours."
You can read the rest of the article here.