Emma Watson: Hermione Has "A Heart of Gold", University Magazine Interview and Pictures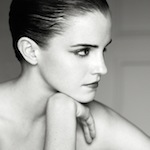 Jun 26, 2011
UAE University Magazine has published a great interview (although seemingly conducted some months ago) with Emma Watson in which the actress talks about her role as Hermione, future projects, an "addiction" to learning and more. The Watson spoke about taking pleasure in the "little things" whilst at university, such as sitting in her dorm room eating pizza, and named Jodie Foster, Gwyneth Paltrow, Hilary Swank, Cate Blanchett, Meryl Streep and Natalie Portman amongst her role models, although added that she will "follow [her] own path". The magazine included some brand new photographs from Watson's photoshoot with Mariano Vivanco, which you can find here on the UAE University Magazine website and in our galleries shortly!

Are you scared that people will only see you as Hermione and nothing else?
It's funny, everyone keeps asking me that. I don't feel scared at all. She is such an amazing role, such an amazing character. I don't really want people to forget.

But what if you play another role and people remember you as Hermione?
I hope that I'm a good enough actress that people forget. And the other thing is that I'm still growing. I'm still changing in my physical appearance and in the way that I am. So I don't think it should be too difficult. It's not like I'm already formed. I'm still changing, I'm still diversifying. Maybe it's ignorance that I'm not too worried but I'm not really.

Do you miss the hair around your head?
With short hair you've got to be a bit bolder, there's nothing to hide behind. So it's made me be bolder in my fashion choices. It's actually made me more confident as a person I think. I'm not sure why that is. But it has.

Do you remember the experience of reading and anticipating the last book?
Definitely. It's so funny, I was going on holiday the day that the last book was released. They were sending me a copy but I didn't get it cause I wasn't at home. So I was queuing in the airport for the book. I remember someone spotting me in the queue going "are you Emma Watson? Are you queuing for the Harry Potter book?" "Yes". It was quite surreal really. I was dying¦I couldn't really wait until they send it to me. I just had to have it the minute I could get my hands on it.

What do you think of your dancing scene with Harry that is not in the book?
I think that it's important cause the film is so intense. From the opening scene, it's intense and all the way through until the end. So without that scene there wouldn't be much reprieve. It's a nice break. But it's also nice to see Harry tender and caring towards Hermione, just showing how nice a boy-girl friendship can be.
Watson also mentioned that she definitely "hopes" to be called an action heroine after the last film and agreed with Daniel Radcliffe's assessment of filming some of the action scenes, with Emma describing filming as:

A bit scary at times. We didn't really have much training or much warning sometimes. As much as they can prepare you or put stunt doubles in there, there's a certain amount that you have to do yourself. You can't get away from doing nothing. I guess that was scary. I threw myself off the top of a vault onto the back of a dragon. But it meant that I was doing a sort of¦I mean I had crash mats. I don't want to exaggerate, 20 or 30 foot drop. I just had to dive off into my stomach. […] Your body's saying "no,no,no!" And you have to just do it. And the pyrotechnics. There were lots of bangs and explosions. When there's one fight, to get those sparks and stuff they plant pyrotechnics everywhere and I was terrified that I was gonna¦if you run the wrong way or you go in the wrong direction or whatever, you have to be very¦you gotta act at the same time as being aware of where all of them are whilst remaining on camera whilst¦and you're just like "Oh God, please don't let¦" You just hope you're not gonna screw up really.
Emma finished up the interview with an explanation for her choice to study, commenting, "I just love learning. I'm like addicted to learning. I just want to know as much as I possibly can. It's never enough for me. And I'll never stop. I just really love knowledge. Addicted!"
Read the full interview at this link.