CNN Special "Harry Potter: The Final Chapter" to air July 10, 2011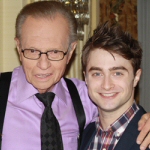 Jun 28, 2011
CNN has announced a special program, "Harry Potter: The Final Chapter," hosted by journalist Larry King will air on Sunday, July 10 at 8 and 11 p.m. EST.
The program will feature exclusive interviews with the cast including Daniel Radcliffe, Emma Watson, Rupert Grint, Tom Felton, Helena Bonham Carter, and Robbie Coltrane. James and Oliver Phelps will also "take viewers on a tour of the Wizarding World of Harry Potter…and interact with fans on the eve of the final Harry Potter movie."

Radcliffe, calling the final Potter film a "hell of a movie' tells King that he "wept like a child on that last day" of filming. The three main stars, who have spent half of their lives playing these characters, open up to King and reflect on the end of the series of films. "I was so young, it's difficult to remember much of my life before this thing happened to me' Watson says. "I was still losing my baby teeth" while playing Hermione. Grint says after 10 years of his life playing Ron Weasley, leaving the character behind was "quite a big kind of shock."
During the special, CNN will also premiere never-before-seen footage from the final film and go behind-the-scenes of the making of "Part 2″ with the special effects team.