JK Rowling Dicusses Life-Changing Books, eBooks and More in New Interview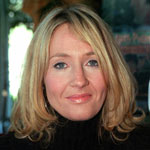 Jun 03, 2011
The June 2011 issue of the literary magazine Words with Jam recently published an exclusive interview with Harry Potter author JK Rowling.
Ms. Rowling talks about some of her favorite books to read as a child, the challenge of balancing a family and writing, her (messy!) work space, and her opinion on the eBook debate.
The interview is available to read for free online beginning on page 6.
Some excerpts from the interview:
What was your favourite childhood book, or books?

The Little White Horse, by Elizabeth Goudge. The tone is perfect; a seamless mix of the fairy-tale and the real. It also has a plain heroine, which delighted me beyond words as a child, because I was a very plain little girl and I hadn't met many literary heroines who weren't breathtakingly pretty. The opening paragraphs of The Little White Horse have stayed with me all my life. Goudge says that there are three kinds of people in this world: those who find consolation in food, those who find consolation in literature, and those who find consolation in personal adornment.

I know I read Little Women when I was eight, because we moved house shortly afterwards, when I was nine. Naturally, I whole-heartedly identified with Jo March, she of the burning literary ambition and short temper. My mother had everything Georgette Heyer ever wrote, so I whipped through those, too, when I was a pre-teen, and I FINALLY found a plain heroine there, too (Phoebe, in ˜Sylvester', who also ' hooray! – happened to be a writer).

Basically, I lived for books, and was sustained by literary characters with whom I could identify ' I was your basic, common-or-garden bookworm, complete with freckles and National Health spectacles.
Ebooks – Nemesis or Genesis?

Genesis. There's no point trying to hold back progress, but print will never die; there's no substitute for the feel of an actual book. I adore physically turning pages, and being able to underline passages and not worrying about dropping them in the bath or running out of power. I also find print books objects of beauty, and I don't speak as a precious, first-edition-mustn't-crack-the-spine-type collector, but as somebody who loves a shiny new paperback, and the smell of second-hand books.

However, there are times when e-books are a Godsend. We forgot to pack my youngest a bedtime book when we were away last year, and I truly appreciated the magic of being able to download one in seconds! This summer will be the first time that I take away fifty e-books to read while we're on holiday, rather than filling up my suitcase with print books.

Which word or phrase do you overuse ' in writing or in life?

I'm not proud to say that it's probably swearwords in every day life. Writing the Harry Potter books, I got sick to death of the words ˜passage', ˜corridor' and all others relating to my heroes' endless movement around Hogwarts castle.