Dan Radcliffe Interview in "Time Out New York"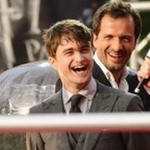 Jul 11, 2011
Dan Radcliffe (Harry Potter) appears on the cover of this week's issue of Time Out New York, where he is interviewed, of course about finishing the Harry Potter film series, but also about what he likes about living in New York:
You probably don't get mobbed on the street when you walk around here.
It's
very rare that I get stopped or get asked for an autograph or
anything"none of which I mind"but people don't really care that much. I
just sort of walk by, and they say, "Oh, hi' [Waves] and then
walk on. It's pretty cool, to be honest. You should be proud of that, as
a city, that you're very chilled out with celebrities. I do miss
London, but if I have to spend a year somewhere else, New York is not a
bad place to have to spend it.
Is that different from fan reaction in London?
It's definitely different for me in London. People, if they spot you in London, sort of tend to shout. Or say, [Pointing] "Hey, look!" or something like that.
It's sort of an unspoken rule between New Yorkers and celebrities, to let them be.
I
saw Julianne Moore walk past me a couple of weeks ago, and we sort of
smiled at each other. I don't think she knew it was me, I just think she
thought it was somebody smiling at her. You do see a lot of people, and
I'm as guilty of it as anybody. I get so excited when I spot people,
like, "Oh, there's Kiefer Sutherland!"
Radcliffe goes on to talk about performing in "How to Succeed in Business Without Really Trying." You can read the rest of the article here.