Rupert Grints Talks Finishing Harry Potter and His Favorite Potter Memories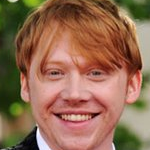 Jul 11, 2011
In a new interview with Rupert Grint (Ron Weasley) featured in Parade, Grint reflects on his favorite memory from the films and what he'll miss the most:
On his favorite Potter memory.
"My first-ever scene on the set was really cool. It was actually the
last scene on the first film, when we were leaving Hogwarts on the
train. It was just such a change. One week I was literally at school and
reading the Potter books, and suddenly I was on the set. It was just a
really overwhelming, exciting thing. I felt quite out of my depth,
because I did feel like the most inexperienced person there. But it was
just great to be there."
On what he'll miss the most.
"The people, the friendships, the memories, and the place"just going to
the same place everyday. It became a second home. I remember packing
everything up in the last few weeks and finding toys and birthday cards
from when I was 13 and 14. I never imagined I'd be here 10 years later
talking about the eighth film. It just seems so surreal. It's been so
much fun. I really am truly going to miss it."
He also discusses his favorite moment from the last movie and his big kiss with Emma Watson. You can read about that here in the article. Do be forewarned that his response to those questions contain very minor spoilers for the movie.