Tom Felton Attends Premiere of His New Film, "Rise of the Planet of the Apes," Rupert Grint Shows His Support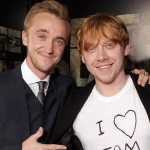 Jul 30, 2011
Actor Tom Felton (Draco Malfoy) attended the Hollywood premiere of his new film, "Rise of the Planet of the Apes" on Thursday evening at Grauman's Chinese Theatre.
Fellow Potter co-star Rupert Grint (Ron Weasley) also happened to be in town and stopped by the premiere to show his support for his friend wearing a homemade "I [heart] Tom Felton" t-shirt. Nice to see the Weasley/Malfoy rivalry was left on the big screen!
Images of the two actors at the premiere can be seen in the Leaky galleries.
Earlier this week, Felton also stopped by the late night talk show Conan to talk some more about "Deathly Hallows: Part 2." Host Conan O'Brien took the opportunity to bring up some Draco/Harry fan art, taking Felton by surprise. Video of his appearance can be seen at this link.
"Rise of the Planet of the Apes" arrives in theaters on August 5, 2011.