Videos: New Interviews with Emma Watson, Dan Radcliffe, Rupert Grint, and Tom Felton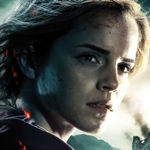 Jul 05, 2011
We have a few new video interviews for you today. The first is of Emma Watson (Hermione Granger) being interviewed by Newsround. In the interview Watson is shown a video of herself being interviewed by Newsround during the filming of the first movie. This cute throwback to 2001 can be viewed here or below.
The next video we have is of Watson being interviewed by ITV's Daybreak. She discusses her kiss with Rupert Grint and Hermione's character. This video includes some footage for "Deathly Hallows: Part 2." You can watch it here or below.
Our last video is of Watson, Dan Radcliffe (Harry Potter), Rupert Grint (Ron Weasley), and Tom Felton (Draco Malfoy) discussing "Deathly Hallows: Part 2." This video also contains footage from the new movie so please be aware of that before you click here to watch it or see it below.