Parade Magazine Highlights Quidditch and the Real Life People Who Play It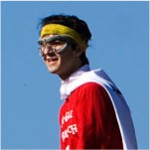 Jul 08, 2011
There is a new article in Parade magazine which focuses on Harry Potter fans' love of Quidditch, as well as those fans who became so enamored when reading about the sport that they decided to create a real life counterpart:
Adapted from J.K. Rowling's fierce flying matches, ground Quidditch"a
cross between rugby, basketball, dodgeball, and tag"began at Middlebury
College in 2005. Freshman Alex Benepe and his friends were bored of
playing boccie and devised rules for the wizardly game. Soon 10 coed
teams formed across campus. "It was a hit right from the start' Benepe
says. "Harry Potter is like the Star Wars of my generation."
You can read the rest of the article here. And take a look at pictures of future Viktor Krums and Gwenog Joneses here in Parade's photo gallery of the sport of Quidditch.