New Profile Piece on J. K. Rowling: "How J. K. Changed the Face of Literature"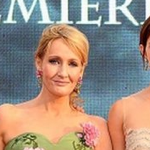 Jul 09, 2011
Stylist magazine has a new article which focuses on J. K. Rowling and how she contributed to "changing the face of literature" as well as a reflection on the evolution of Harry Potter's popularity:
It's not simply publishing where Rowling's effect has been felt; the
way she handled the Potter books' transformation into movies was
revolutionary too. When the film rights were snapped up in 1999 ' for a
seven-figure sum ' by Warner Bros, many writers would have been cowed
into taking a back-seat. Rowling ensured that the film was shot in
Britain. That Coca-Cola donate $18 million to American charity Reading
Is Fundamental if they wanted to be involved. She signed off every
script and even acted as a producer on both parts of the Deathly
Hallows. As ever, she is modest. "I have been allowed to make my views
felt. You know, that's not to say they're going to take my views on
board, but the conscience rests easy, if you like, knowing that I was
able to sit in the meeting and say what I would not feel comfortable
with."
Rowling still maintains to this day that nothing was ˜her call'.
There was even talk that her clear approach made Steven Spielberg back
out of directing the first film. "Did I have a fight with him?" she said
when asked about it. "No, I definitely did not. I read that in an
article and was mystified. There were things he said that I didn't agree
with, there were things he said that I did agree with."
You can read the rest of the article here. Thanks to Stylist for sending this our way!