Updated: Day 7 Clue for Pottermore's Magical Quill Challenge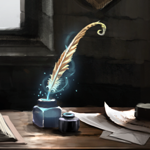 Aug 05, 2011
Update: Early access to Pottermore is now closed. Congratulations to everyone who found the Magical Quill, and for those who didn't Pottermore will be open for everyone to register in October.
The seventh and final clue, from Deathly Hallows, for the Magical Quill Challenge is now live:
How many Deathly Hallows are there?
Multiply this number by 7.
Think
you know the answer? Add the number to the end of this website address
(http://quill.pottermore.com/) and find the magical quill for a chance
to be one of the first million Pottermore beta users.
Best of luck to everyone!