Emma Watson Covers Company Magazine September Issue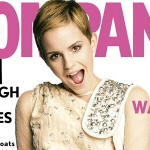 Aug 05, 2011
Emma Watson (Hermione Granger) will grace the cover of Company Magazine's Young Hollywood September issue, according to an article from Digital Spy.
A few quotes from the interview were released where Watson talks about her hopes for the future now that the Harry Potter series is complete:
"I have very strong family values and I definitely hope that will be in my future," she said. "I can't wait to be a mom and have my own family one day."

Discussing the qualities she looks for in a potential partner, Watson explained: "Hmmm¦ kindness, good manners, intelligence, confidence and someone who can make me laugh."

"On a superficial level, I don't have a 'type'. You could line up photographs of all the guys I've dated and they look totally different. You won't believe me but it really is more to do with their personalities rather than looks."
An image of Watson on the cover of Company can be seen here.