Get Ready for the 2011 Quidditch World Cup, November 12 and 13 in NYC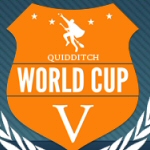 Aug 06, 2011
The International Quidditch Association is gearing up for the 5th annual Quidditch World Cup on November 12 and 13, 2011 in Randall's Island, New York City.
The event will take place across 10 fields with 100 teams represented and 2,000 athletes taking part.
A special video was released by the IQA showing some extraordinary footage from past World Cups to get fans excited for the event. Watch it below!