Winners of July's Deathly Hallows Scene Contest Announced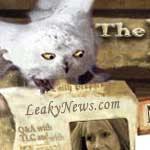 Aug 07, 2011
Last month, we held a contest where entrants were invited to recreate a scene from Deathly Hallows and submit a picture of it. The winners of July's contest, as chosen by our Contest Crew, are listed below. You can see the winner's entries by clicking on their names. Descriptions of the scene they chose to recreate are included:
First Place: pygmy-puffs-are-awesome
This picture is just before the battle when Harry is talking to Fleur
and Remus about Teddy Lupin while Ginny and Mrs. Weasly are fighting
about whether she is staying, Percy is saying sorry to Mr. Weasly and
Neville, Dean, Fred, George and Kingsley are talking in a circle around
them. There are the house banners and bright hammocks. In one hammock is
a pygmy puff and in another Neville's letter. Surrounding them are
bathroom doors, broomsticks, the empty photo frame, the wireless and a
book shelf (there are DA galleons on the floor).
Second Place: Sienna Verdugo
When Harry and Draco are trying to escape the room of requirement from
the cursed fire.
Third Place: Clark Wilson
My diorama depicts the mysterious silver doe that led Harry through the
forest to the frozen lake that Snape had placed the sword of Gryffindor
in order for the sword to be taken via need and valor.
Honorable Mention: Valeria-Johanna
A tableau representing the Silver Doe chapter in the Deathly Hallows.
Honorable Mention: luna&harry
My scene is called "The Silver Doe".
Obviously it's after the chapter. As you can see, Harry is following the
Silver Doe away from the tent. His wand tip is lit (that's the little
round dot at the tip of it).
Congratulations to all the winners!