Harry Potter Actors to Join the Wizarding World of Harry Potter Celebration November 11-13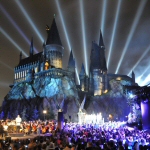 Sep 21, 2011
As readers will recall, the Wizarding World of Harry Potter will be hosting a special celebration of the Harry Potter films November 11th through November 13th. We now know that this celebration coincides with the release of the final Harry Potter film on DVD, but now we also know which of the Harry Potter actors will be in attendance at the Wizarding World of Harry Potter:
The release of " Harry Potter and the Deathly Hallows part 2 " will be
also marked by special festivities to the " Wizarding World of Harry
Potter " with the Universal Orlando Resort, where Harry Potter's
adventures continue to exist. " Harry Potter Home Entertainment
Celebration " will consist of a series of special events in which will
participate the actors and the directors of Harry Potter's movies. This
party which will last three days will take place from Friday, November
11th till Sunday, November 13th. The actors and the expected directors
are in particular James and Oliver Phelps (Fred and George Weasley),
Warwick Davis (Professor Flitwick, Griphook), Evanna Lynch ( Luna
Lovegood), Mark William (Arthur Weasley), David Bradley (Argus Filch),
Jessie Cave (Lavender Brown), and many of the others who will be a
little announced later.
Thanks very much to UniversHarryPotter for the tip!