J.K. Rowling Receives Benefactor's Award from University of Edinburgh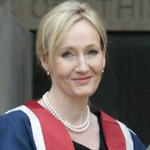 Sep 26, 2011
In a ceremony held today at the University of Edinburgh, J.K. Rowling was presented with the Benefactor's award by Princess Anne, chancellor of the university.
The Benefactor's award was given to Ms. Rowling because of her £10 million donation to the university last year to establish a new multiple sclerosis research clinic. The Anne Rowling Regenerative Neurology Clinic, named after the author's mother, is due to open sometime spring 2013.
A photo of Ms. Rowling with her award can be seen here at the BBC website.
In a report by the Press Association, University of Edinburgh Professor Sir John Savill gave a few words praising Ms. Rowling and her charitable donation:

Professor Sir John Savill, head of the college of medicine and
veterinary medicine, said the money will have a "major impact" on the
university and has already given hope to thousands of people with
incurable diseases.
"While multiple sclerosis will be
at the heart of the research initiative, people with the many other
diseases caused by neurodegeneration, such as motor neurone disease, are
likely to benefit from discoveries made here."