Transcription of J. K. Rowling Receiving the Benefactor's Award from University of Edinburgh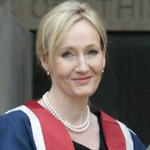 Sep 28, 2011
As you may recall, J. K. Rowling received the Benefactor's Award from the University of Edinburgh earlier this week. Thanks to IHOR we now have both a video of Rowling receiving the award as well as a transcription. Both can be viewed below.
'Madam Chancellor, in the name and by the authority of the University
Court, I have the honour to present for the bestowal of the distinction
of University Benefactor Joanne Kathleen Rowling.
Jo Rowling needs hardly any introduction. She is the author of one of
the most successful series of books ever written, and her stories are
loved by children and adults alike all over the world. Jo started
writing the Harry Potter series during a delayed Manchester to London
train journey, and continued in coffee shops here in the heart of
Edinburgh.
The final book in the series, ˜Harry Potter and the Deathly Hallows',
was the fastest-selling book in both the UK and the USA, with sales
well over 400 million copies worldwide. Jo is a remarkable author who
has achieved several international distinctions, including Order of the
British Empire in 2001, Chevalier de la Légion d'Honneur from France in
2009, and honorary degrees from several Universities across the world,
including the University of Edinburgh and Harvard, USA. But perhaps most
enviable of all, she was awarded in 2007 a Blue Peter Gold Badge!
However it is not for her writing achievements that we honour her
today. JK Rowling has supported a wide number of charities and causes
including Comic Relief, the Maggies centres for cancer care and Médecins
Sans Frontières. She founded and is actively involved in the charity
Lumos, previously known as the Children's High Level Group, which aims
to make life better for young people in care worldwide; and she is also
honorary president of Gingerbread, a charity working with lone parents
and their children. Jo has also set up the Volant Charitable Trust,
named after her mother's family, to support a wide number of causes,
particularly where social deprivation affects women and children.
In 2010 Jo Rowling made a donation of £10 million to the University
of Edinburgh to establish the Anne Rowling Regenerative Neurology
Clinic. The clinic is named after Jo's mother, Anne, who died after
complications related to multiple sclerosis at the age of only 45- the
age at which Jo made this most significant gift to Edinburgh. While
Multiple Sclerosis will be at the heart of the research initiative,
people with many other diseases caused by neurodegeneration, such as
motor neurone disease, are likely to benefit from discoveries made here.
All neurodegenerative disorders are progressive and currently
incurable. The work we are conducting in these areas could have a
profound and lasting effect on hundreds of thousands of patients and
their families worldwide.
At the time of making this transformative gift to the University, Jo also gave us the following quotation about her mother:
"I know that she would rather have had her name on this clinic than
any statue, flower garden, or commemorative plaque, so this donation is
on her behalf too, and in gratitude for everything she gave me in her
far too short life."
Jo went on:
"I cannot think of anything more important or of more lasting value
than to help the University attract world-class minds in the field of
neuroregeneration."
Madam Chancellor, this is a wonderful and most remarkable act of
philanthropy. In recognition of the major impact that this gift will
make to the University of Edinburgh, and the hope it has already given
to thousands of people with incurable diseases, I invite you to bestow
upon Doctor Joanne Kathleen Rowling the distinction of University
Benefactor.'
Many thanks again to IHOR.