Video: First Look at Emma Watson in "Perks of Being a Wallflower"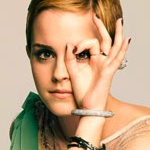 Sep 30, 2011
MTV News recently visited the set of "The Perks of Being a Wallflower" and spoke to actress Emma Watson (Hermione Granger) about her first post-Potter film.
On signing on for the film and playing the character of Sam, Ms. Watson says:

"Honestly, I had never read the book before, but a lot of my friends at
Brown were hugely into it, and when I told them I had this script, they
were crazy excited," Watson told MTV News.

"I feel incredible about it. I feel like I've been waiting for
'Perks,' " Watson said. "I was waiting for this story, for this script,
for this moment, for these people to do it with me. I'm so glad I didn't
do anything that I didn't care about."
A video from behind-the-scenes shows Ms. Watson filming a high energy dance number and glimpses at a graduation scene. The video, including an interview, can be seen at this page.