Bloomsbury to Publish Illustrated Versions of Harry Potter Books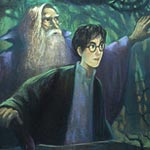 Feb 23, 2012
In an Associated Press story about the new adult J.K. Rowling book, Bloomsbury has revealed future plans for the Harry Potter novels:
"…we intend to publish illustrated editions of all seven
Harry Potter books in a rolling program from 2013 onwards in addition to
our partnership on e-books with the Pottermore website," the publisher
said in a statement. In the U.S., Scholastic spokeswoman Kyle Good noted
that Scholastic didn't publish adult books.
"We will continue to publish her children's books in the U.S.," Good said Thursday.
The Harry Potter books will remain with Bloomsbury and Scholastic in Britain and the U.S., respectively.
(Thanks to our friends at Hypable for pointing out that it is Bloomsbury, not Scholastic, publishing the new editions!)