Five Years Later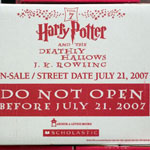 Jul 21, 2012
And they said we wouldn't last!
Today, in case your Muggle calendar is broken, is five years since the release of Harry Potter and the Deathly Hallows. Five years ago most, if not all, of us were huddled over new, magical pages as we discovered the last secrets of the Harry Potter saga.
Since that time, we have been faced with questions and demands from people who know us less well than we know ourselves. What will you do? What's next? Where is the Harry Potter fandom going when it's over? I don't know about you, but I am tired of those people and those questions. We come from the age before, and are part of the age after, the glorification of enthusiasm. Part of what made Harry such a story was that no one could believe young people could be that excited about anything, much less a book. For whatever reason, it was less cool then than it is now to geek out about that which you love. Harry Potter will always be an enormous part of that evolution. For all its forbearers, for every pop culture phenomenon that led into the enormous boom of enthusiasm by which the decade of Potter was marked, Harry was the first one to break through the jaded, resisting wall of people who could not be bothered. It was the first one to make those guys seem uncool.
A lot has changed since then, but the important things have not. We still love Harry Potter; we still read Harry Potter. But we're lovers of other things too. Other books. Other series. Movies. Music. Culture. By engaging with Harry as wholly and with so much intelligence and passion, we learned how best to express a fandom: with compassion and curiosity and creativity.
Now, geekery has become cool – nay, even hot. Showing your enthusiasm is expected. The age of being shocked that young people are obsessing over fiction, or writing their own versions of stories, or inventing music about their favorite characters, is over. It's time to unabashedly rejoice in the magic of story, and Harry Potter will always be part of why that's so very okay.
In five years from now, where will we be? Will some of us be reading the Harry Potter stories to our children? How many of us will be published novelists ourselves? Who, of those of you reading this right now, will create a TV series or movie that inspires its own fandom? When you see the unfailing joy, the unironic excitement, and clear-eyed ebullience that meaningful stories can inspire, we hope you'll think of Harry, and remember the time we all spent discovering such happiness together.
Leaky will still be here, helping chart the course. After all, a good story never dies.
Happy anniversary, everyone!