January's Contest: Harry's Other Magical Accident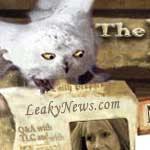 Jan 02, 2012
For the first contest of 2012 we're asking you to think up a magical accident Harry might have had during his childhood with the Dursley's and describe it in 750 words or less. The first place winner will receive a handcrafted wand (design changes each month) and a copy of the book The Practitioners Guide to Wand Magic by William C. Wilson, both donated by Wizard Wood Wands,
as well as 200 MyLeaky points.
You can read the full rules of the contest here. Best of luck to all who enter!