New Clip of Rupert Grint from "Into the White"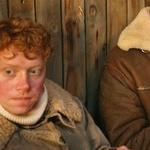 Jan 27, 2012
A video clip of Rupert Grint (Ron Weasley) from his first post-Potter film, "Into the White," has been released. In the film, Grint plays a British air force soldier during WII trapped in the mountains of Norway with German soldiers, relying on one another for survival. Watch the clip below, in which Grint puts on a Scouse accent.
"Into the White" will have its world premiere on March 4th in Oslo, Norway. Grint is expected to attend.
Thank you to RupertGrint.net for the news!