"The Casual Vacancy" No.1 on USA Today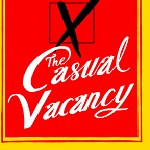 Oct 02, 2012
The Casual Vacancy has entered the Number 1 slot on USA Today's Best-Selling Books list. J.K. Rowling's first adult novel has knocked E.L. James 50 Shades of Grey into the Number 2 slot–James' first fall in 21 weeks. USA Today reports:
J.K. Rowling still has the magic " at least when it comes to selling books.
Despite mixed reviews from critics, The Casual Vacancy, Rowling's first post-Harry Potter novel " this one for grown-ups " will land at No. 1 on USA TODAY's Best-Selling Books list on Thursday. The book was released Sept. 27.
Rowling is "kind of review-proof," says Sara Nelson, editorial director of books and Kindle for Amazon.com, who's not surprised at Rowling's top ranking given the strong pre-orders over the past few weeks.
The test, Nelson says, "is how well it continues to sell." No one in publishing expects it can match Potter sales in their heyday. Rowling's publisher, Little, Brown, says
The rest of the article can be read here.