Emma Watson Featured in Elle's "Woman in Hollywood"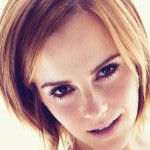 Oct 03, 2012
Elle magazine has released their featurette named Women in Hollywood 2012. Emma Watson was chosen as one of the five women that were listed. Each "woman in Hollywood" gave a short statement and posed for a picture (Emma Watson's photo can be seen below). Elle reports:
Emma Watson on Harry Potter fame: "I just knew, from the moment I read "Harry Potter and the Sorcerer's Stone" that I was meant to play that role¦I put one of the Potter films on the other night. And it was amazing to me that I had done all of that. I have to remind myself every now and then."
The rest of this featurette can be viewedhere.