First Look at Dan Radcliffe in "Horns"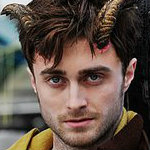 Oct 03, 2012
The first pictures of Dan Radcliffe as his character Ig Perrish in his upcoming film, "Horns," have surfaced. Entertainment Weekly released the first image of Radcliffe in character, as well as a brief interview with the actor:

This morning began bright and early for Daniel Radcliffe " ironic, considering he's tackling his darkest role yet. In Horns, Radcliffe's character Ignatius "Ig" Perrish is a less-than-angelic young man who wakes up to find the titular appendages growing from his forehead. "It's a very, very different type of part than anything I've done before' teases Radcliffe. Today marked the first time the actor settled into a Vancouver makeup chair for several hours of prosthetics application…
Radcliffe describes his new role as "deeply emotional and also incredibly outrageous in some ways." How outrageous? Well, let's just say the 11-year-old Daniel Radcliffe we met in Harry Potter is nowhere to be found. In his place, we have Ig, who is accused of the violent rape and murder of his girlfriend before waking up and to find horns that come with a wildly tempting power trip " he can induce people to tell the truth or compel them to give into their ugliest inner urges. Says Radcliffe, "To play somebody who, in the midst of a time in his life of great turmoil anyway, undergoes this horrific transformation into a devil character " it was very, very exciting."
Also, thanks to SnitchSeeker, we have some on-set photos of Radcliffe which can be seen here in our galleries.