Matthew Lewis at the Premiere of "Our Boys"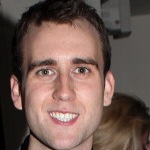 Oct 05, 2012
Posted by Catherine
New pictures of rehearsal and the opening night (Wednesday) of Our Boys have been released (and can be seen below). The premiere was attended by many actors, including Doctor Who actors David Tennant, Matt Smith, and Billie Piper. Matthew Lewis also spoke with BBC about Twitter and what he wants to do in the future. SnitchSeeker reports:
Matthew Lewis: Twitter's
a unique thing, really. You can see when people go on Twitter just to abuse
people ' and that's like what they get out of it. That's why they're there. And
I can deal with that. Whatever. It's when a genuine fan goes, "I used to like
you, but didn't realize that." Okay, that's a bit heavy. But that doesn't
happen that often, thankfully.

The fans say, "Oh, I know you've done other stuff but to me you'll always be
Neville." It seems like a really nice thing, but to me it's like, "Well it's
not really the point, but¦" I understand what they're saying and so because of
that I can't really begrudge it to be honest with you because he's such a
fantastic character I had the fortune to play. The whole films themselves
affected so many people's lives, and him as a character did as well. So if he's
one character that stays with me for the rest of my life, I'm sure it's not the
worst thing in the world.

What I want to do in twenty years' time is to still be working. That's what I
want. Obviously the more well known you are the easier that is. But I just
enjoy being a jobbing actor. I like it. It's fun ' playing different roles and
meeting new people. That's what I hope for in twenty years I'm still working
and making a living.

A few good photographs on the red carpet are great, but very soon everyone's
going to realize that I'm not all good looking, and that's what they're going
to print. You can't put someone up there and then not bring them back down
again. I'll just wait for this in six months' time when it all falls away and
they realize I'm not good looking at all. But so far everyone's just ignored me
since then, so it's great. It's fine.
"Times New Roman"">
mso-bidi-font-family:"Times New Roman";color:black;background:#FAFAFA">

The Telegraph mso-bidi-font-family:"Times New Roman";color:black;background:#FAFAFA"> also released a review of Matthew Lewis's new play, stating:
class="secondPar">

Jonathan Lewis's play, first performed in 1993, is set in a military hospital in Woolwich in 1984. A cheery camaraderie has developed among the patients on Ward 9, who include Fox as Joe, a soldier of the Blues and Royals injured in the 1982 IRA Hyde Park bombing, Keith (Cian Barry), a Northern Irish private with a possibly psychosomatic leg injury, Ian (Lewis Reeves), who is recovering from being shot in the head on patrol in Belfast, and a couple of slightly less heroic injuries: Parry (Arthur Darvill), who has lost some toes, and Mick (Matthew Lewis), who has been circumcised and is suffering equally from post-operative pain and the mockery of his mates.

class="thirdPar">

Their banter is interrupted by the unwelcome arrival of an officer. In fact, Oliver Menzies (pronounced, to the squaddies' derisive stupefaction, "Mingies") is only a potential officer " in for an operation on his bottom before proceeding to Sandhurst. But his bedmates regard that as a technicality, and the atmosphere on the ward darkens as the banter becomes dangerously edgy.
Lewis, who based this drama on his own experience, has a fine ear for the razor-sharp humour of private soldiers. Line by line, his play is very funny, and director David Grindley keeps the action going at a brisk clip.
mso-bidi-font-family:"Times New Roman";color:black;background:#FAFAFA">

The rest of the article can be read here.