J.K. Rowling at Cheltenham Literature Festival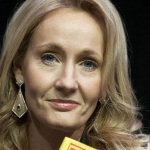 Oct 07, 2012
As reported previously, J.K. Rowling made an appearance at Cheltenham Literature Festival to promote her new, adult novel The Casual Vacancy. (Pictures of the author posing with The Casual Vacancy can be seen below). In an interview at the Cheltenham Literature Festival, J.K. Rowling responded to critic's accusations and confirmed that her next book would be for children. The Telegraph reports:
She said: "I am not a particularly thick-skinned person. It is true that a lot of what I am looking at in the book are certainly middle-class issues, but then I think that's fair and I am well-qualified as I am from the middle class, which I can empathise with.
"But I think some critics have misrepresented my views as more extreme or black and white than they really are. I don't think I am evangelical in my work."
Ahead of the book's publication last month, she said: "We're a phenomenally snobby society and it's such a rich seam. The middle class is so funny. It's the class I know best and it's the class where you find the most pretension." She added that she had "laid my friends bare".
The author said that she had decided to portray several troubled adolescents in The Casual Vacancy in order to attempt to remove the social stigma surrounding many teenagers.
She said: "We do stigmatise teens a lot and see them as scary and alien. It's a very fragile time of life. It is more difficult to be a teenager now than when I was a teenager. The internet has been a boon and a curse for teenagers."
class="firstPar">
The author, who has been reluctant to say whether she would return to children's fiction after finishing the Harry Potter series, confirmed that her next book would be for young children.
class="secondPar">
"As the writer of Harry Potter, I'm always nervous of committing myself to another children's book, but yes, the next thing I write will be for children," she said.
class="thirdPar">
"I have a lot of things on my laptop currently, including a couple of things for children – for a slightly younger age group than Harry Potter was aimed at – which are nearly done and will, I think, be the next thing I publish. I have run them by my children and they seem to like them which is always a good sign.
class="fourthPar">
"I also have some ideas for another book for adults but it isn't too far on [in development]."
The rest of the article can be read here. Thanks to SnitchSeeker and Hypable for the heads up!