Alfie Enoch and Chris Rankin to attend Supernova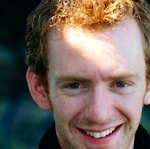 Nov 04, 2012
Alfie Enoch (Dean Thomas) and Chis Rankin (Percy Weasley) told Australia's The Chronicle that they were getting ready to attend the Supernova fan conference along with Tom Felton. In the interview they also talked about their favorite aspects of Harry Potter: favorite scenes, spells, patronuses, Deathly Hallows, etc. SnitchSeeker reports:
What would your patronus be?
CHRIS RANKIN: My patronus would probably be a wombat.
ALFIE ENOCH: I think my patronus would be a fox.

What is your favourite spell?
CHRIS: Can't use magic in front of muggles – sorry!
ALFIE: I always liked the idea of Alohomora. It would be fun to be able to unlock any door in the world – you could go anywhere!

Which of the Deathly Hallows would you want?
CHRIS: Oh the invisibility cloak. The other two are more creepy….
ALFIE: Perhaps the invisibility cloak. Then I wouldn't be spotted going through locked doors I wasn't meant to be going through… Although having the most powerful wand in the world doesn't sound too shabby… But if I had the choice I'd ditch them all for a Firebolt; having your own flying broomstick would be amazing!

If you could be any other character what would you be?
CHRIS: I love playing villians, and I always liked the character of Tom Riddle from Chamber of Secrets.
ALFIE: Snape – he has the most terrific character arc. And his story's so moving.

What was your favourite scene to film?
CHRIS: There's so many different answers to this and for different reasons. I really enjoyed shooting in Gloucester Cathedral on the first film because it was Percy's moment in the spotlight. I loved shooting at The Burrow in Chamber of Secrets…. lots of laughs! But the final two films are really special for me because it was such a massive team effort. Everyone was together for such a large part of it. It was a lot of fun.
ALFIE: For the Deathly Hallows part 2, I filmed a fight scene on the battlements of the castle which sadly didn't make it into the final cut, but I got to play around with a wand in front of a green screen which was a lot of fun, until I fell off trying a Roger Federer-style back hand slice.

What are you up to now?
CHRIS: I graduated from Uni in 2011 and plan on moving into film and stage production more so than acting. I'm also getting married in January of 2013, so it's time to be a bit more grown up and settle down!
ALFIE: I've been in two plays there this summer; Antigone by Sophocles and Timon of Athens.

Thanks to SnitchSeeker for the tip!