JK Rowling's Thank You to Pottermore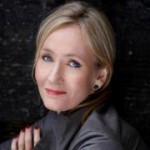 Nov 04, 2012
J.K. Rowling has penned a thank you note to her staff at Pottermore. The letter was written through TH_NK, who released a photo of it on Instagram (and can be seen below). TH_NK added artistic touch to the photo by blurring the edges. However, the letter is not entirely legible. The letter is written on J.K. Rowling's usual letter head, and dated October 21. Hypable reports that the letter reads:
"This is a shamefully overdue, but nevertheless huge ' indeed, Hagrid-sized ' THANK YOU to the Pottermore team for their extraordinary work' Rowling wrote. "I know how much time and effort it took to get the site up and running, and the result is truly magnificent. I've had rave reviews from all sides; a friend of mine (Hufflepuff, maple and phoenix feather wand, tweleve inches, rigid) called me two nights ago to complain that she only won five house points so far. She's forty four. Naturally, I told her to work harder."
The letter goes on for another paragraph or two, but the photo begins to get blurry. "I'm hoping to say thank you in person before long' reads one sentence. "Please accept my heartfelt gratitude' says another. "A site that outstripped my wildest expectations' is the last bit we can work out.
Thank you to the Pottermore tumblr page for posting the picture!