Tom Felton in ASOS and Corduroy Magazine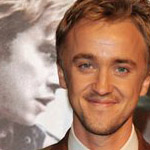 Nov 06, 2012
Tom Felton recently completed two photo shoots and interviews for ASOS Magazine and Corduroy Magazine. In his interviews, Felton commented on his role in Belle and visiting Warner Bros. Studio Tour. A few photos from the photo shoots can be seen here. SnitchSeeker also posted a snippet of the ASOS interview:
Tom Felton on playing a villain in Belle:
"I'm not a very villainous chap at heart," he says, with a grin. "So I do revel in it. I almost put on the friendliness a bit more when we're off camera, so when you do go into a scene, hopefully you wake people up."

"I was really nervous going into this," he says of his role in Therese, pulling on the sleeves of his grey sweatshirt. "There are only four main actors in the film, and to be one of them¦ I had to make sure I was up to their standards. For a while, I feared having been cast just because of what I'd done previously. But from doing other films since [Harry Potter], I feel confident in my ability to do this, which at some point, maybe I didn't."

Thanks to SnitchSeeker for the tip!