Something New Coming to Pottermore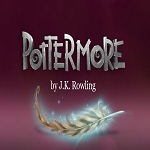 Dec 07, 2012
The Pottermore Insider has updated the site with a hint for things to come on Pottermore. They posted a picture of tea leaves, asking readers to make predictions based on what they see in the cups. Is this a simple test of your skills at Divination? Or a hint that "Prisoner of Azkaban" will be arriving soon on Pottermore? Or is it both?

We want to hear your predictions and what you think they mean for your future. Share them with us on Facebook and Twitter. We'll retweet our favourite predictions throughout the week and share a selection here on the Insider too.
Those at the Pottermore team have so far seen and predicted the following:
'I think it looks like a camel. I think that means I'm going to go on holiday somewhere sandy. And ride a camel.'
'A dog's head ' Puppy for Christmas!'
'It looks like an egg yolk in the bottom of a cup. No comment.'
'It's a four-legged chicken. Maybe I'm seeing my Sunday roast dinner…'
Tell us what you see in the tea leaves….