February Contest: Rubber Duck for Arthur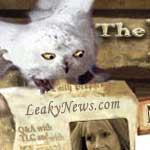 Feb 01, 2012
For February's contest, it's all about Arthur Weasley. Because he's such a great father and beloved character, we want to give him something special for his birthday. Since we know he loves all things muggle, namely rubber ducks, your task this month is to design a rubber duck especially for Arthur! You will not be judged on how well you can draw, but on your idea. Also, please include a little bit about your design and why you chose what you did.
Complete contest rules and details are available on this page. Deadline to enter is Feb. 29 at 11:59 p.m. EST.
The first place winner will receive a handcrafted wand (design changes each month) and a copy of the book The Practitioners Guide to Wand Magic by William C. Wilson, both donated by Wizard Wood Wands,
as well as 200 MyLeaky points. Second, third, and honorable mention(s)
will receive 150, 100, and 50 MyLeaky points respectively.
Good luck to all who enter!