"Deathly Hallows: Part 2″ Winner of Special Visual Effects at BAFTA Awards; Dan Radcliffe and Harry Potter Cast Attend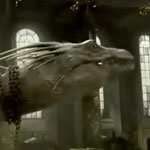 Feb 12, 2012
Congratulations are in order for John Richardson and the special effects team of "Harry Potter and the Deathly Hallows: Part 2″ for winning the BAFTA for Special Visual Effects!
The award was presented at a ceremony in London tonight, which was attended by several actors who once made up the cast of "Harry Potter." In attendance was Daniel Radcliffe (Harry Potter), Bonnie Wright (Ginny Weasley), Kenneth Branagh (Gilderoy Lockhard), Gary Oldman (Sirius Black), Ralph Fiennes (Lord Voldemort), Helena Bonham Carter (Bellatrix Lestrange) and John Hurt (Ollivander), who won the award for Outstanding Contribution to British Cinema.
Photos from the event can be seen at the official BAFTA website at this link. We hope to have some more in the gallery soon.