UPDATED: Daniel Radcliffe to Introduce Two Screenings of "The Woman in Black" in London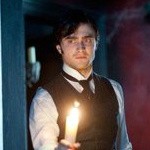 Feb 07, 2012
On Saturday, Feb. 11, actor Daniel Radcliffe and director James Watkins will introduce their film, "The Woman in Black," to audiences at two special screenings in London.
For fans who missed out on seeing Radcliffe at the film's London premiere last month, this is another great opportunity. Radcliffe and Watkins will be present at the following screenings:
3 p.m – Empire Leicester Square
4:30 p.m. – Vue Westfield
From the press release:
See Daniel Radcliffe in the flesh
as he introduces his new film, The Woman in Black, at Vue Westfield, London
on Saturday 11th February at 4.30pm. Fans can book tickets and
see him introduce the film now at www.myvue.com.
"The Woman in Black" was released over the weekend in the U.S. with a $20+ million opening weekend. It will be released on Feb. 10 in the U.K.
As a reminder, Vue is also offering UK fans the opportunity to vote on their favorite movie of 2011. If "Deathly Hallows: Part 2" wins it will be show in theatres on February 26th (Oscar night) for the low price of £4.