Whimsic Alley Presents: The Joe Moses One Man Showses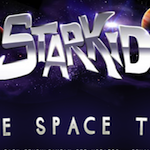 Mar 02, 2012
Joe Moses, who plays Snape in "A Very Potter Musical," will be performing in "The Joe Moses One Man Showses" at the El Rey Theatre in Los Angeles on March 5th at 8:00 pm:
The
Joe Moses One Man Showses has
just concluded an impressive six-month run of consecutively sold out
off-Broadway performances all over New York City. The Showses is a sketch comedy show co-written
and -created by Moses and J.D. Durkin, featuring material ranging from parodies
to the characters that made Joe famous in the online world.
After starring alongside GLEE's Darren Criss in
numerous Starkid Productions (as seen on Vh1, MTv, E! and more), Joe Moses has
become both a critical and audience favorite with the Joe Moses One-Man
Showses. With an online following of over 42,000+ regular subscribers, Joe
Moses has received national attention from CNN.comand The New York Times Sunday
Magazine.
In addition to co-star Tessa Netting, Joe
welcomes guest performances by fellow Starkids alums Joey Richter, Brant Cox,
Brian Rosenthal, and Devin Lytle, PLUS very special L.A.-based super star
guests from film and television.
Immediately following the performance, the cast
will be across the street at Whimsic Alley for autographs and meet-and-greet
with fans. Whimsic Alley, on Wilshire Blvd.'s Miracle Mile, is Southern California's premier destination for
Hatty Potter fans. For more information and tickets, visit, www.theelrey.com or www.whimsicalley.com.
For Joe Moses' Sizzle Reel, please click here.

~*~
Special announcement: Leaky is looking for news editors! If you have what it takes, email us at [email protected]leaky-cauldron.org