New Interview with Rupert Grint Details His Relationship with His Brother, and His Ice Cream Van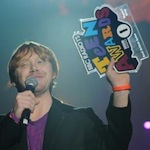 Mar 04, 2012
In a new interview, Rupert Grint discusses his relationship with his younger brother James, who is a rally driver, and of course, his infamous ice cream van:
'I tend to avoid July and August, but
the rest of the year I'll drive around the local villages and if I see
some kids looking like they're in need of ice creams, I'll pull over and
dish them out for free. They'll say, "Ain't you Ron Weasley?" And I'll
say, "It's strange, I get asked that a lot."

˜The
van often comes in useful. I drove it up to the set on the last day of
filming on Harry Potter. The cast and crew were having a barbecue and I
supplied the lollies and ice creams.
˜James
and I grew up with a love for cars and a love for racing. We started
with scooters, then moved on to go-karts and quad bikes. James will
claim that he always won. I remember it differently.

˜He
has a daredevil instinct that I lack. He will try pretty much anything,
regardless of the physical risk. He would always be coming up with
crazy stunts. One time, he built these long ramps and decided to jump
over my grandad on a mountain bike. Thankfully, he made a clean jump. If
he'd landed on Grandad, it wouldn't have been a pretty sight.'
James Grint discusses his relationship with his brother and his love of rallying:
I've never looked at Rupert's success
and thought, "That could have been me." I could never have been an
actor. By the time Rupert's career was taking off, I'd already made up
my mind that I wanted to be a racing driver. If anything, Rupert's
success spurred me on to excel in my own field.
˜People
would always be asking me what it was like to have a famous brother. I
didn't think of him as famous. And he never got too big for his boots.
I'd have been the first to tell him if he did. At first everyone knew me
as Rupert Grint's brother. Then I had to carve out an identity for
myself, which I did by being good at sports.
˜What I love about rallying is that it's all- encompassing. You need to
be a master of every surface ' Tarmac, gravel, snow and ice. Rallying
is regarded as the poor cousin to Formula 1 but I think there's every
chance that could change in the coming years. I'd like to be at the
forefront of that.'
style="overflow: hidden; color: #000000; background-color: #ffffff; text-align: left; text-decoration: none; border: medium none;">You can read more here.
Many thanks to Max for the tip!