Kymera Magic Wand Remote Control on Sale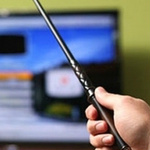 Mar 07, 2012
The Kymera Magic Wand Remote Control is currently on sale at Broodr through Sunday, March 11th. Originally priced at $89.95, the wand is now $75.95.
This magic wand can turn on your TV, your fireplace – anything that can be operated by an infa-red remote control. You use the wand purely by gesturing and the wand learns from your existing remote controls.
The wand comes in a red silk brocade-lined gift box with a black faux-dragonhide covering. You can buy it here.