Video: Rupert Grint and Julie Waters in VisitEngland Ad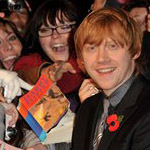 Mar 07, 2012
VisitEngland has launched a new tourism campaign based around the idea that "Holidays at Home are GREAT." Rupert Grint and Julie Waters (Mrs. Weasley) are currently appearing in a TV ad for this campaign:
"2012 is going to be a year like no other in our history, with the
Diamond Jubilee celebrations and the Olympics' Culture Secretary Jeremy Hunt said. "With so much going on, this is the perfect time to make the most of the UK and take your holiday here."
James Berresford, VisitEngland's Chief Executive, said: "We have
thousands of offers up and down the country, which means a family can
enjoy great deals on accommodation, meals and tickets to attractions at
very affordable prices. Now is the time to holiday at home ' there is no
comparison anywhere else in the world with what's on offer here in the
UK this year."
Also appearing in the ad are Stephen Fry (recorded the Harry Potter audiobooks in the UK) and Michelle Dockery, who plays Mary Crawley in the series Downton Abbey. You can watch the ad here and a behind the scenes look at the making of the ad here, or you can watch both below.