J.K. Rowling to be Awarded Freedom of the City of London on May 8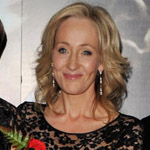 Apr 26, 2012
J.K. Rowling will receive the Freedom of the City of London on Tuesday, May 8 for her services to children's literature, according to a press release from the City of London.
The ceremony will take place at the Mansion House, the official residence of London's Lord Mayor. She will read aloud the Declaration of a Freeman and be presented with a framed parchment certificate.
In a statement, Ms. Rowling spoke of what the award means to her and some special perks:
"Both my parents were Londoners. They met on a train
departing from King's Cross Station in 1964, and while neither of
them ever lived in London again, both their daughters headed
straight for the capital the moment that they were
independent. To me, London is packed with personal memories,
but it has never lost the aura of excitement and mystery that it
had during trips to see family as a child.
"I am prouder than I can say to be given the Freedom of the
City, which, on top of all the known benefits (and few people
realize this), entitles me to a free pint in The Leaky Cauldron and
a ten Galleon voucher to spend in Diagon Alley."
The Freedom of the City of London can be traced back to
1237. Today, people are presented with the award because it
offers them a link with the historic City of London and one of its
ancient traditions.
Thank you to In Honor of Rowling for the tip!